Aquaculture PhDs share their findings far and wide thanks to SAIC travel grants
Among many other collaborative activities, the Scottish Aquaculture Innovation Centre provides financial assistance to students wishing to attend international conferences to present their work.
Three such recipients of the SAIC travel grants are Jadwiga Sokolowska, who attended the European Association of Fish Pathologists (EAFP) conference in Ireland; Athina Papadopolou, who attended the International Symposium on Aquatic Animal Health (ISAAH), taking place in Canada; and Mikey Clarkson, who attended the AQUA 2018 "We R Aquaculture" event in France.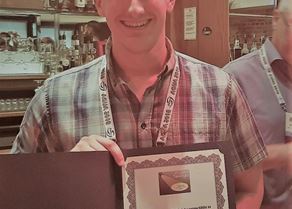 All three are current students at the Institute of Aquaculture at the University of Stirling and the grants are available to all scholars involved in the Scottish aquaculture industry who would like support to contribute to important international industry events.
Jadwiga presented her poster, "Proteolytic activity of extracellular products from in vitro cultured Paromoeba perurans", which details the causative agent of amoebic gill disease (AGD), a significant concern for the global salmon industry. Jadwiga's project aims to develop a recombinant vaccine against the disease and her attendance at the EAFP conference has boosted her knowledge of disease in farmed and wild fish populations, helping to contribute towards her PhD.
Athina presented part of her PhD research work at the ISAAH Cleaner Fish Session with the title "Bath challenge model against atypical Aeromonas salmonicida in farmed ballan wrasse (Labrus bergylta,Ascanius 1767)". Her thesis aims to characterise the innate and adaptive immune response of farmed Ballan wrasse and help to develop a vaccine development for the same species. In addition, Athina was able to visit the Center for Aquaculture Technology Canada, a state of the art facility for aquatic animal research.
"The impact of post-ovulatory ageing on the development of diploid and triploid Atlantic salmon" was the trial presented by Mikey at AQUA 2018 as part of his PhD. Being able to deliver the presentation at an international event gave Mikey the opportunity to discuss similar trials taking place in other institutions and the results, allowing him to return to Scotland with ideas and different perspectives.
Also at AQUA 2018, was Samuel Pountney who presented on "Temperature effects on captive lumpfish (cyclopterus lumpus) broodstock spawning season and gamete quality".
Samuel's PhD, "Broodstock Management of Lumpfish" is part of a wider SAIC project "Establishing a sustainable supply and optimal deployment of lumpsuckers". The project aims to provide a baseline of knowledge to create and maintain a sustainable Scottish captive broodstock for lumpfish to support an effective and proven non-chemical treatment for sea lice in Scotland.
Attending this conference has given Samuel valuable experience in presenting his own research and results to an international audience, as well as meeting with key connections for future work and collaborations; in the form of academics, government bodies and industry leaders.
Samuel was also the winner of the World Aquaculture Society's student spotlight award – congratulations from all at SAIC!