GKinetic to help tackle clean energy challenge faced by aquaculture
Irish hydrokinetic turbine developer GKinetic Energy has joined the SAIC Consortium to work together to reduce carbon output and accelerate the switch to cleaner energy alternatives in the aquaculture industry.
[From the article published in Offshore Energy]
Aquaculture is a huge industry around the globe and Scotland is a major leader in this sector. According to the Scottish Association for Marine Science, 96% of all marine aquaculture in the UK is based in Scotland, where the industry aims to double its turnover value to £3.6 billion and its employment numbers to 18,000 by 2030.
SAIC connects over 200 businesses and organisations in the consortium group with a focus on SAIC's three workstreams: driving, nurturing and sharing innovation in the fast growing aquaculture sector.
GKinetic's modular solution is well positioned to serve the decarbonization of the aquaculture industry, as it can provide uninterrupted power from flowing water and can be adapted to meet the unique energy needs of fish farms, the company claims.
Sarah Riddle, SAIC director of business engagement, said: "We are delighted to welcome GKinetic – a leading hydrokinetic company – to the SAIC consortium. Our mission is to transform Scottish aquaculture by unlocking sustainable growth through innovation excellence.
"Put simply, this means we work towards maximising the sector's value to the Scottish economy while minimising its environmental impact. We therefore see this as a great opportunity for our network to explore innovative and sustainable ways to address diesel consumption across the sector".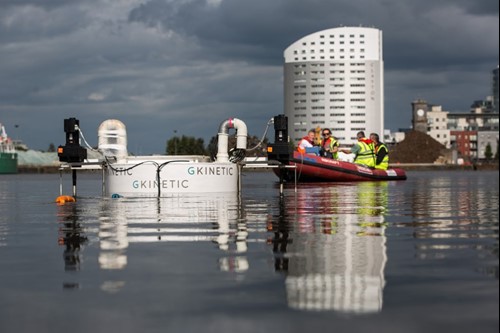 Illustration/The testing of GKinetic's scaled device in Limerick Docks (Courtesy of GKinetic Energy)
Roisin Mc Cormack, GKinetic's COO and co-founder, added: "There is undoubtedly a demand for sustainable and predictable energy in the aquaculture sector and GKinetic has long recognised the potential our hydrokinetic floating turbine could bring to the mix.
"We are now in active discussions with a number of large multinational aquaculture firms and players, learning first-hand about the challenges they face on a day to day basis and working with them in an open and transparent manner to help work towards a viable solution.
"Our experience with the industry so far it has been really positive. It has been heartening to see the genuine concern and commitment to make positive, clean changes. We are actively looking for a commercial pilot project to demonstrate our technology in an aquaculture application in 2022/2023 and welcome any interested parties to get in touch".