Meet SAIC's summer interns 2021
Last year saw the very first SAIC summer internship conducted completely online due to the Covid-19 pandemic.
Following the huge success of running the initiative in this format, there was no hesitation to do the same this year, not least because it enables us to attract talent from further afield than the locality of our Stirling office base. We are delighted to welcome Hazel Imrie, Conner McCall and Roxanne Palino as our 2021 cohort. Read on to find out a bit more about them, their studies, interests and what excites them about working at SAIC.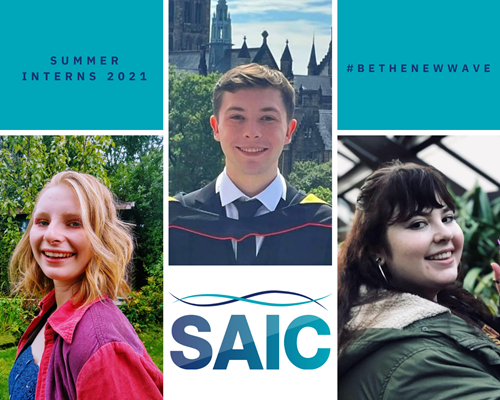 Hazel Imrie (pictured, left):
"I'm Hazel and I'm from Stirlingshire, but I'm living in Glasgow. I'm a third year Neuroscience Student at the University of Glasgow, with interests in microbiology, immunology and disease prevention. I'm also a keen environmentalist and have always loved the outdoors, volunteering with my local National Park. I was so grateful and excited to be offered the SAIC Summer Internship, as I admired their multi-disciplinary approach to tackling key issues within the ever-changing sector of aquaculture. Although I did not have much prior experience in aquaculture, I am really looking forward to learning from and working with experts. In particular, with those who are leading research in gill disease and sea lice prevention as this is my background, but also in marketing and innovation, as these are key skills I will take with me into any and every future employment."
Conner McCall (pictured, middle):
"My name is Conner, I am from a small town just outside Glasgow and I am excited to be a member of the 2021 SAIC internship team. I recently graduated from the University of Glasgow with a first-class degree in Marine & Freshwater Biology and will be starting the Ecology and Environmental Biology MRes course in September. 
I have always been passionate about environmental conservation and animal welfare, but I also understand the importance of aquatic resources in our society. That is what drew me to SAIC as I admire their commitment towards improving sustainability, animal welfare and reducing environmental impacts of aquaculture through innovative research. 
My previous industry experience is in zookeeping and so I am excited to gain some industry experience in a relevant field, particularly one as important as sustainable aquaculture. I feel very lucky to have been chosen for this internship, particularly as the current COVID pandemic has made it very difficult for students to gain the valuable experience necessary to be successful after university. Most of all though I am looking forward to getting involved in the research side of the industry as I believe we have only just scratched the surface of the potential aquaculture has to be a truly sustainable and beneficial sector to all."
Roxanne Palino (pictured, right):

"My name is Roxanne and I'm originally from Germany, but am currently based in Glasgow, Scotland. After the summer holidays I will be going into my final year of study for my BSc (Hons) Applied Bioscience and Zoology at the University of the West of Scotland. Up until a few months ago, I had absolutely no knowledge about aquaculture as a whole and especially about the sector in Scotland. My planned dissertation will be about the rewilding of oysters in Scotland and through the research for it I started coming across more and more information about the aquaculture sector. I found it all extremely fascinating, especially regarding shellfish aquaculture due to its natural inclination to being a very sustainable option compared to other forms of seafood farming. My supervisor shared the SAIC internship with me, and I saw an opportunity to learn more about aquaculture and receive first-hand experience working with an organisation aiming to support projects that help the sector grow into a more sustainable future and raise awareness of the benefits of aquaculture for the future of seafood. I feel super lucky to have been given this opportunity with SAIC and am very much looking forward to not only learning more about their visions for the future of aquaculture, but also getting involved in projects that will help my understanding of what is currently being done as well as what is being planned in the sector to improve sustainability and reduce the current impacts on the environment."
The whole SAIC team is looking forward to working with this year's interns, helping them to gain knowledge and understanding of the sector, as well as gaining some essential skills in marketing and innovation.