Report from The European Aquaculture Society Conference
Charlotte Bolton is a PhD researcher at the Institute of Aquaculture, University of Stirling. SAIC sponsored her attendance at the European Aquaculture Society Conference to present her work on clock genes and circadian rhythmicity.
The European Aquaculture society's 2021 conference was held in Funchal, Madeira between the 4th and 7th of October 2021. The theme of this year's conference was "Oceans of opportunity" something which I believe resonated with all this year's attendees on both a personal and professional level. The conference brought together both seasoned and early career researchers from around the world, the first opportunity for many to meet face-to-face and present recent developments in their work for a while. Areas of interest included early development, selective breeding, micro and macro algae, diseases – control, prevention and prophylactics amongst many other sessions.
An underlying theme across the majority of presentations was sustainability and the opportunity aquaculture provides in helping the sector to meet sustainability goals through addressing specific targets or research gaps. These include improving production by optimising temperature during key developmental stages, nutritional programming, closing the lifecycle of commercially important species in captivity, identifying alternative methods to control fish diseases, or better identifying the target market and assessing consumers' wants and needs. The plenary talk was given by Pedro Encarnação from Jerónimo Martins on vertical integration - securing supply, quality, and sustainability.
I was selected to present my work on clock genes and circadian rhythmicity in the Basic Aquaculture session on Thursday morning. My work as a PhD researcher at the University of Stirling is based around the circadian mechanism in salmonids. As part of my PhD I have identified the effect of multiple whole genome duplication effects of the number of clock genes in a number of salmonid species including Atlantic salmon and rainbow trout, creating a fundamental tool for future work through the correct naming of individual gene paralogs. From this work I have then progressed to start to identify the effects of lighting regimes upon the circadian mechanism with the hope that through future studies this will enable us to identify optimum lighting regimes for specific lifestages of salmonids rearing in aquaculture.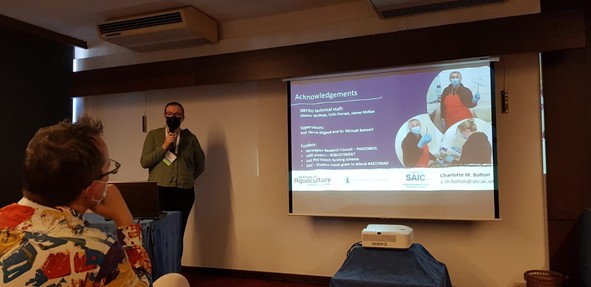 Conference highlights
As a PhD student, it is often all too easy for your subject area to become your sole focus. One of the opportunities I enjoyed the most was getting to listen to presentations outside of my own area of interest. A few of my most memorable presentations were:
The presentation given by the Student Spotlight award winner, Rafaela Santos from the University of Porto on Quorum-quencing Bacillus spp. and disease control in aquaculture. She described her work and how the experiments had identified three promising fish-gut Bacillus which produced extracellular molecules capable of interfering with the quorum-sensing capabilities of the aquaculture pathogen Edwarsiella tarda (one of the leading bacteria pathogens of freshwater and marine cultured species worldwide) in vivo in gilthead seabream. She highlighted their promise as a disease control tool in aquaculture and the opportunity this presents in reducing production-based losses related to disease by interfering with a regulatory mechanism closely linked to the expression of virulence which contribute to the pathogenicity of fish diseases.


Sandra Ramos-Júdez' presentation on the implementation of recombinant gonadotropin therapies to control the maturation of flathead grey mullet in captivity. The flathead grey mullet exhibits severe reproductive dysfunction in intensive captive conditions that arrests gametogenesis during the early stages. Sandra showed that through the treatment of the fish with recombinant gonadotropins that it was possible to induce vitellogenesis and produce viable ova and larvae, effectively closing the lifecycle of the flathead grey mullet in intensive captive systems and reducing the reliance upon wild stock for aquaculture. This study provides a fundamental basis for the use of recombinant gonadotropins to combat the reproductive dysfunction induced by aquaculture conditions and has the potential scope to be explored in other aquaculture species displaying similar issues.


There is increasing demand for micro and macroalgae as a supplement or replacement for marine protein and lipid sources in aquaculture or for direct human consumption – sea grapes are a green macroalgae of increasing economic interest example and are regarded as a high-end niche product for direct human consumption. Lara Stuthmann's presentation on the enrichment of sea grapes Caulerpa lentillifera identified that although the macroalgae is regarded as a species which has adapted for low-light, antioxidant activity can be boosted in the species by increasing irradiance by invoking a stress response in the grape fronds, thus improving the potential health benefits to the consumer. However, there is a delicate balance between increasing antioxidant activity and affecting the overall appearance of the sea grape. Lara suggested that the increased antioxidant activity could therefore be achieved in a two-step, pre- and post- harvest treatment in order to boost antioxidant activity beneficial for human health as well as the physical appearance of the sea grape.
Reflecting on my time at #AE21MAD and my first time presenting as a PhD student, it's been a brilliant opportunity to represent the University of Stirling, to share my work and learn about the most recent developments across the breadth of aquaculture, from controlling maturation in flathead grey mullet to the implications of temperature on a number of commercially important species. It's been refreshing to learn more about aquaculture outside of salmonids and circadian mechanisms. But most importantly it's provided an invaluable opportunity for an early career researcher such as myself to network in person and begin to build connections with world renowned scientists and industry forerunners. It's really highlighted the opportunities which research brings to both the industry and as an individual working in research in aquaculture.
Whilst in Madeira it would have been a missed opportunity not to explore! During the downtime between sessions and during the evenings I got an amazing opportunity to find out what Funchal had to offer, from the seafood to the scenery (I highly recommend catching a cable car up to the Monte Palace tropical gardens to see the koi). The presidents' reception was a brilliant opportunity to try locally produced food and wine and network with people in a more relaxed setting as well as catch up with colleagues I hadn't seen since leaving Bergen in March 2020. The highlight of my trip was the opportunity to go whale watching with the EAS student group with Rota Dos Cetáceos Madeira – where we were lucky to find ourselves surrounded by a pod of sperm whales who were more than comfortable to stand and sleep next to us!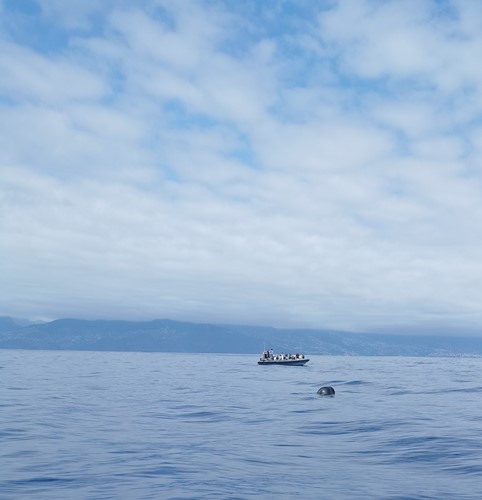 Many thanks again to Sustainable Aquaculture Innovation Centre for sponsoring my attendance at the conference through their student travel grant.
Read more aquaculture news