SAIC Introduces… Agri-EPI
In the latest 'SAIC introduces' instalment, we would like you to meet Agri-EPI: one of the four UK Agri-Tech Innovation Centres established by the UK Government in 2016.
Agri-EPI provides technical expertise, business support, project management and access to world-class research and innovation facilities and research assets, and builds links between research, agri- and aqua-tech innovation, industry, and suppliers of products and services, through its membership of ~200 companies across agriculture, technology, and the value chain.
The Marine Aquaculture Innovation Centre (MAIC)
The MAIC is a joint venture between Agri-EPI and Otter Ferry Seafish, providing much-needed capacity for developing innovative production technologies for diverse marine aquaculture species, including salmon to near-market size. The facility is configured to undertake a wide range of studies, such as evaluating feeds and pharmaceuticals, instrumentation testing, and validation of operational welfare indicators.
The trials facility comprises six 20m3 and twelve 2m3 aquaculture rearing tanks, equipped with programmable lighting, automatic feeding, and oxygen and pH monitoring systems. All tanks are supplied with filtered, UV-disinfected seawater, with waste feed collectors fitted to the outflows. The facility is suitable for rearing diverse species including finfish and non-finfish, including cleaner fish, microalgae, shellfish and seaweed.
The new R&D facility is in a strategically important aquaculture producing region: Loch Fyne in Argyll, Scotland, and will be open for business in September 2021.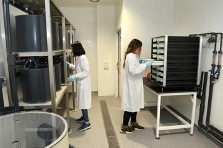 The Aquaculture Genetics Research Facility (AGRF)
The AGRF is a newly-built freshwater aquarium facility at Easter Bush – Roslin (Edinburgh), designed for research into early-life stages of farmed fish species. The AGRF is set up with a hatchery and grow-out room, and a disease challenge room. There are three separate recirculating aquaculture systems to provide suitable water quality conditions for the fish. The AGRF has been built to support ongoing research into disease resistance and genome editing of farmed fish, in particular salmonids. The rooms and systems are set up to allow for research into both cold- and warm-water fish. The AGRF was jointly funded by Agri-EPI and BBSRC and is available for grant and commercially funded projects.
If you're interested in finding out more, please get in touch with Kasi McReddie, Business Development Manager, Livestock & Aquaculture, at Agri-EPI.
Discover more