SAIC Introduces… Dales Marine
In the latest 'SAIC introduces' instalment, we would like you to meet Dales Marine: a business that has been supporting the UK maritime industry since 1984. Here, they explain how developing a scheduled maintenance programme can deliver both time and cost savings.
Vessel maintenance is crucial, and regularly scheduled repair and maintenance will help extend a vessel's working life. Planning and preparing the vessel for regular Maritime & Coastguard Agency (MCA) inspections or surveys can save both time and money.
Whether the work is to the engines, hull, onboard equipment, secondary ship systems or thrusters, it is critical to ensure that services and maintenance are routinely carried out.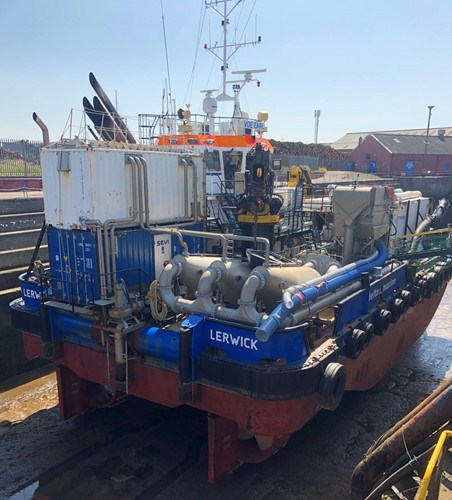 Scheduling inspections and maintenance ensures that problems are identified and repaired while the vessel is in dry dock, reducing the risk of breakdowns at sea. A long-term scheduled maintenance plan can help the crew get more done when the ship is in dry dock, rather than waiting until the vessel breaks down or needs repairs when at sea.
Certification of UK fishing vessels involves regular inspections by the MCA, including a full renewal survey every five years and, for vessels over 15m length overall (LOA), mid-term inspections to maintain the certificate. This is in addition to the owners having to complete an annual self-certification.
Inspections or surveys can be undertaken up to six months before the Fishing Vessel Certificate expires. If the vessel is well prepared, the inspection or survey could be completed in the shortest number of visits, reducing and managing costs. MCA could do inspections or surveys to vessels under 15m LOA in just one visit, or two visits for vessels of 15m LOA or over. There are financial charges for inspection and survey visits, which vessel owners can manage by ensuring their vessels are well prepared.
Operating in five dry dock facilities in Aberdeen, Leith, Greenock, Troon and Grangemouth, Dales Marine is ideally located to accommodate vessels for the mainland and the islands. Dales is well-versed and experienced in servicing and supporting a range of aquaculture vessels such as Utility Vessels, Multi-Cats, Live Fish Carriers and Support Vessels.
The company's skilled workforce delivers a one-stop solution with services tailored to the sector. That includes engine repair, welding, fabrication, engineering, valves, propulsion, retrofitting, piping, paint and coasting, machining and more.
Dales Marine delivers dry dock and 'alongside' services to help prepare vessels for either an 'out of water' or an 'afloat' survey. Vessel preparation may require:
pressure washing the vessel
testing the hull plates for steel vessels
providing safe access to the external hull areas
removing and cleaning of sea valves
checking propeller blades and testing clearances on the propeller shaft and rudder bearing
repair/replace damage if required and checking draft marks if applied to the vessel
Kevin Paterson, Contracts Manager at Dales Marine Services, says: "Dales supports vessel owners with a range of services to support them in preparing their fishing vessel for MCA inspections and surveys. Each of our facilities is equipped to deliver a one-stop-shop solution."
For more information, click the button below or contact Andrew Malcolm, Business Development Manager: +44 (0)7923 227990
If you're a SAIC Consortium member and you would like your business or organisation to be featured in the 'SAIC Introduces' series, get in touch with Benedikte to get the ball rolling.
Discover more about Dales Marine