In the latest instalment of this series, we are pleased to introduce SAIC Consortium member Manolin: an international data analytics company helping farmers improve fish health.
Before starting Manolin, Tony Chen worked at the U.S. Food and Drug Administration, where he built systems to monitor and assess medicine for unforeseen infectious diseases. John Costantino worked on full-stack development, natural language processing, geo-spatial visualisation, and big data aggregation for clients across Washington, D.C.
After finding a mutual passion for seafood production, Tony and John took this combined experience to an industry that they saw as data-rich but insight-poor: Norwegian aquaculture.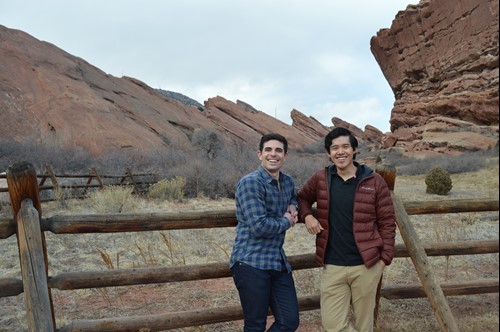 John Costantino and Tony Chen
They soon found that aquaculture farm data is often incomplete and scattered across various sources. Without a holistic view of their productions, farmers were missing value. Tony and John moved to Bergen — a city that lives and breathes aquaculture — to turn this problem into an opportunity for the industry. 
Manolin's farmer-friendly platform constantly monitors millions of data points to better manage risk and prevent loss. The team monitors and analyses industry-wide health trends, so farmers and leaders know where attention is needed most. 
Turning farm data into value
Manolin's platform brings all farm information into one place so farmers can quickly check on each generation and benchmark their performance. Manolin's system sends automatic alerts when an anomaly occurs, like a drop in oxygen or abnormal feeding. 
Here's how it works:
Collect: The team collected two decades of industry data and continues to monitor millions of production and environmental data points every day.
Combine: This is combined with a farmer's production data in one central platform, which automates reporting and analysis.
Predict: Anonymised production data is fed into Manolin's machine learning models, which send alerts when something is off or disease is present nearby, so farmers can act sooner. 
"Manolin makes this simple and easy for each farmer: We set up secure pipelines to automatically feed production information into our platform. Insights and alerts are then instantly available to the farm's entire team."
Building industry-leading prediction tools
CEO Tony Chen continues: "In March 2021, Manolin made breakthrough progress in aquaculture disease detection. We released the only commercially available disease forecasting tool for farmers in Norway, which predicts early onset of PD and ISA with greater than 93% accuracy.
"We continued to analyse disease trends and found that outbreaks of non-notifiable diseases — such as pasteurellosis, amoebic gill disease, cardiomyopathy syndrome, and more — were growing. These diseases are not currently tracked by regulators, posing a considerable threat to the industry. So in August, we released the first system to automatically notify farmers about the risk of non-notifiable diseases nearby."
Sharing the facts about aquaculture sustainability
"Analysing these trends provides a big-picture view of how fish health and farms are changing. It also plays an important role in the stories the media are telling about the aquaculture industry."
Manolin's work has been cited in more than 30 publications, with reports on topics like changing treatment strategy, production efficiency improvements, wellboat activity, and environmental impact. The team has written about the power of public data for The Fish Site, what aquaculture can learn from the COVID-19 pandemic for The Economist, and why the ocean is a US$100 trillion opportunity for AgFunder. 
"Our goal is to make it easy for farmers to do what they do best. But we know that aquaculture is about more than forecasting models and high-tech innovations—we aim to combine the power of data with farmers' invaluable knowledge and intuition."
If your business is a SAIC Consortium member and you're interested in a 'SAIC Introduces' feature, please contact Benedikte for more information.
Discover more