In the latest 'SAIC introduces' instalment, we would like you to meet Nova Q: Irish-based environmental sustainability specialists with a particular expertise in managing the microbiome in RAS systems.
As UK Manager Tom Scrope explains, "We believe RAS has a crucial role to play in helping aquaculture to feed a growing planet while reducing our environmental footprint. We bring a different approach, in that we don't believe in short-term fixes around bacterial products for RAS systems – we always look to work as a trusted partner, helping guide customers to manage their systems with the microbiome in mind."
Their approach involves active 'steering' of the microbial populations in the biofilter over time, rather than allowing an unknown and unpredictable microbiome to develop.
Tom describes Nova Q's approach to RAS: "We've been working with bacteria in wastewater treatment systems for a long while, and about five years ago started applying some of the innovations we've developed to RAS. A lot of the fundamentals between the two are the same, and we felt – and still feel – that there are techniques and approaches that we can bring from wastewater treatment to help RAS operators get more out of the bacteria in their systems."
Leveraging their experience in other sectors (which apart from wastewater include anaerobic digestion and agriculture), in 2019 they launched the RAS-Right brand as part of their long-standing partnership with BluePlanet Labs – an Ohio-based manufacturer of bacteria products with 40 years' experience in working with the bacteria species in these products.
The RAS-Right range includes products for both marine and freshwater RAS, as well as a specifically developed nutrient mix product to help bacteria populations quickly establish. There are also some more specific bacteria for nitrite-oxidation and denitrification, as well as a new oxidant-based disinfectant that can be combined with RAS-Right for a rapid shutdown and restart of a biofilter.
In line with their philosophy of working as a trusted partner alongside customers, they have recently expanded to Scotland and now have an office right next door to SAIC on the University of Stirling Innovation Park.
As well as working alongside RAS producers for the last few years, Nova Q is now also launching research partnerships with suppliers and academics to further the sector's understanding of how microbial populations develop in RAS. As Tom says, "The microbiome in RAS is still something of a 'black-box' compared to other areas like fish genetics. We feel there's a big opportunity to explore how microbiomes evolve in RAS systems, and how 'steering' impacts water quality and then ultimately fish health as well. For instance, we're expanding some existing work with a Canadian partner on using bacteria to combat Geosmin and MIB in RAS."
Tom concludes: "We're looking for partners who are interested in collaborating on research and running trials with us to develop the industry's understanding of how we can better manage the microbiome. Please get in touch."
If you're a SAIC Consortium member and you would like your business or organisation to be featured in the 'SAIC Introduces' series, get in touch with Benedikte to get the ball rolling.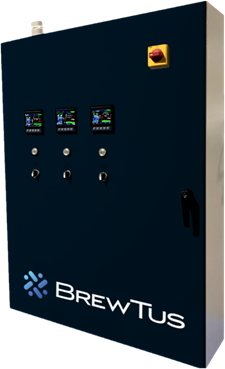 Image: A BrewTus unit, developed by Nova Q's partners in Canada – 'an automated bioreactor unit, used to grow-up batches of beneficial bacteria from which you can constantly dose your system to help maintain a stable microbiome and reduce the risk of opportunistic pathogens taking hold.'
Visit Nova Q's website