SAIC Introduces… Power & Water
In the latest instalment 'SAIC Introduces' series, we meet SAIC Consortium member Power & Water (P&W): an award-winning, UK-based company pioneering the design and manufacture of sono-electrochemical water treatment products and systems (Soneco®).
Based in Wales with a global reach, P&W offers modular, sustainable, and environmentally safe solutions for wastewater treatment. The company provides expertise in the supply of wastewater treatment equipment, offering an alternative to liquid chemicals. Key market sectors include aquaculture, construction, municipal, industrial, mining and agriculture.
Despite the global pandemic, P&W built, transported, and remotely commissioned a treatment system in Norway. This was alongside developing and introducing a new, second 'incarnation' intermediate cathode DBi range of reactors into the marketplace, offering measurable benefits to new and existing customers.
At the heart of the process is P&W's Soneco® reactor – a cost-effective and safe alternative to liquid chemical dosing. The process is adaptable and can be programmed to treat a wide variety of waste streams simply by altering the parameters within the control unit and changing the electrode material.
Crucially and uniquely, the reactors include passivation-free electrodes that are maintained by a unique cleaning-in-place tool, and the latest switch-mode power supply for more efficient power control. The proven benefits are a significant reduction in power demand and overall maintenance costs. Soneco® is patented in over 22 countries worldwide.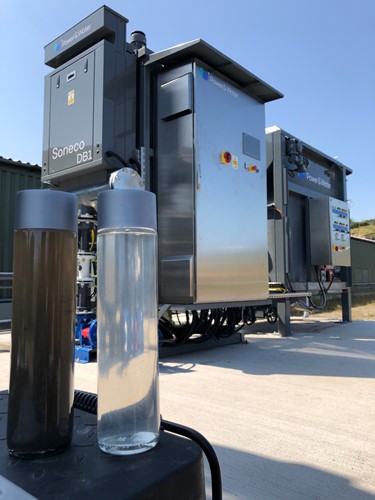 P&W have three working installations at land-based salmon farms in Norway and one plant at a cleanerfish rearing facility in Wales; with two units currently in commissioning stages to be sent to both Norway and Wales.
The P&W system focuses on the treatment of wastewater from fish farms to improve discharge water quality and sludge management requirements (whether land-based or at sea).
Michael Hoy, Commercial Director (Scotland & N. England), says: "Now, more than ever, there is a need for environmentally friendly, sustainable alternatives to wastewater treatment. The horizon points towards zero waste and carbon negative solutions – we believe that, by working together and combining technologies with other like-minded and influential companies, we can grow a viable cross-sector, cross-border circular economy to help reverse climate change in a growing and critical market."
For more information on Power & Water, please visit their website or contact Michael Hoy or Sales & Marketing Executive Zoe Matthews.
Discover more