Walking in Memphis: SAIC colleague Lynsey takes care of business
SAIC's Project Support Officer Lynsey Muir recently took part in the Scottish Enterprise Rural Leadership Programme's International Learning Journey to Memphis – the 'Taking Care of Business Tour'. We're delighted to share her report from what sounds like a fantastic trip:
When you think of Memphis, you wouldn't immediately think of innovative rural organisations and high-tech companies that you could learn from. Instead, your mind would normally wander towards the area's amazing history of music – rock n roll, blues and soul – or American civil rights.
But thanks to Scottish Enterprise's Rural Leadership Programme's international learning opportunity, a group of individuals from across Scotland's rural industries were lucky enough to experience what the city had to offer in terms of developing businesses and organisations.
This is Scottish Enterprise's second year of offering this opportunity to previous graduates of its successful Rural Leadership Programme, as a way in which they can continue to develop their learning and thinking towards leading their own businesses. 
It's daunting to think that you might possibly leave your work unattended for almost a week to go on a 'jolly' across the Atlantic to learn about your business, when you think you already know all there is to know about it. Well, let me be honest with you: it was 100% worth the trip!
When running your own business, it's very easy to get bogged down in your own routine, thinking everything is rosy – and in a lot of cases it is – but for those of us who may feel stuck on autopilot, getting away from 'business as usual' to gain some international perspective may be exactly what's needed. And a learning trip to America is a great way to shift the mind-set and widen international relationships, as the US prides itself as a global leader in innovation, technology and food production.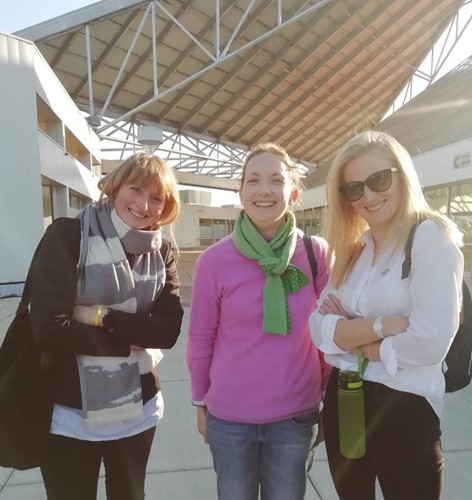 Memphis itself is an ideal location for several reasons. It is host to a relatively diverse economy, featuring successful and innovative agricultural organisations like Agricenter International's centre for research. Agricenter's goal is to be the leader in applied field crop research and education. And with the agriculture and food economy representing an economic impact of more than $15.6 billion in Memphis and the surrounding area, it's important that they keep on top of finding solutions for the next generation of farming; advancing the knowledge and understanding of agriculture. 
Also based in Memphis, but less of a rural business, is the FedEx World Hub, based at Memphis International airport. The scale of their operations was astonishing: at night, a plane lands or takes off every 90 seconds! FedEx is the global leader in overnight shipping all across the world, and is continually looking for ways to make improvements to the company. Seeking out digital solutions to logistical problems, identifying their customers' needs before their competitors, and taking advantage of international opportunities to expand, keeps FedEx at the top of its game.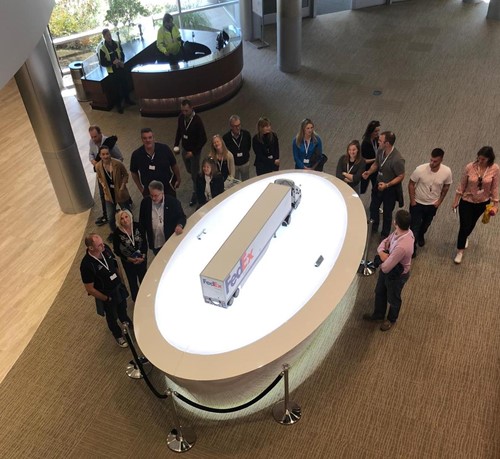 But this trip wasn't all about getting to set foot inside a cargo plane, or to watch cotton being harvested: it was about learning different methods of diversifying to meet the needs of customers, targeting their problems with innovative solutions. It was also invaluable to meet like-minded and inspirational leaders in their fields to hear them talk about their experiences, successes and failures – because it's in the failures that the opportunities lie. Indeed, in the morning sessions with Professor Brian Janz of Memphis University Innovation Centre, we were taught that failure in itself is not a negative – we just need to fail fast and learn faster!
Take St Jude's Children's Research Hospital, for example: their founder saw an opportunity to make a difference in a sick child's life by offering them free specialised healthcare, which developed into a centre for research and innovative, large-scale fundraising. The hospital currently meets the needs of every one of their patients – or if they don't, its staff and leadership try their hardest to find one – as this is a matter of life or death.
'Design Thinking' is a business tool being adopted by many businesses including St Jude's Hospital. This is a solution-based approach to solving problems. This means taking the customer's problem and making it into your business opportunity, rather than simply selling your wares and hoping that the customer wants it. And a large proportion of the trip was spent in the classroom, brainstorming and using design thinking to scrutinise your own business. 
We delved into this journey with an open mind, aiming to alter our mindsets, to be curious about potential new opportunities, to challenge each other's decisions and learn from each other. There was plenty to be inspired by, a lot of food for thought, and many ideas that can put into action straight away. There are new technologies to be embraced and new strategies to be adopted. On the other hand, we also witnessed some practices and ways of thinking where we challenged our hosts, and where things seem more advanced on our side of the pond.
Having arrived back in Scotland, the main take-home message for me was that if we get out of our comfort zones and share knowledge of failures as well as successes, everyone can learn to grow their businesses while also growing as individuals.