AquaLeap: innovation in genetics & breeding to advance UK aquaculture production
Project Summary
Project life: 24 months
Anticipated Benefits
Improving genetics and breeding for four UK aquaculture sectors including salmon, lobster, flat oyster and lumpfish.
MAIN FUNDERS: BBSRC and NERC
CONSORTIUM:
University of Edinburgh
University of Aberdeen
University of Stirling
University of Exeter
Cefas
Xelect Ltd
Hendrix Genetics
National Lobster Hatchery
Tethys Oysters Ltd
Otter Ferry Seafish Ltd
Scottish Aquaculture Innovation Centre (SAIC)
THE CHALLENGE
Productive and sustainable UK aquaculture systems require a reliable supply of high-quality stock. Well-managed programmes of domestication and selective breeding have huge potential for cumulative gains in production. However, the level of technology used for breeding and production is wide-ranging across aquatic species. Reliance on wild or near-wild stock creates vulnerability. It also limits profitability via an impaired ability to improve stock performance and combat emerging challenges. As such, a key research challenge for UK aquaculture is to enable selective breeding. Current barriers to this include knowledge gaps in the genetic basis of economically important traits, and a lack of molecular tools and quantitative genetics expertise.
OBJECTIVES
AquaLeap aims to improve genetics and breeding for four UK aquaculture sectors including a large, advanced industry (salmon), and smaller or emerging industries (lobster, flat oyster and lumpfish).
1. To develop and apply a range of novel genomic tools and resources to underpin domestication and genetic improvement for four species of commercial importance or potential in UK aquaculture;
2. To investigate the genetic and epigenetic basis of variation in key commercial production traits, with a focus on growth, robustness and disease resistance;
3. To improve gene editing techniques in aquaculture species, and use gene editing approaches to identify the causative factors underlying a major locus affecting disease resistance in salmon;
4. To address skill gaps in key areas defined by the ARCH-UK network, including quantitative genetics, bioinformatics and gene editing;
5. To engage societal stakeholders in aquaculture genetics, including future uses of advanced genetic technology.
INDUSTRY RELEVANT OUTPUTS
• New genomic tools to assist selective breeding of several UK aquaculture species;
• Improved knowledge of the genetic and epigenetic basis of traits of importance to the aquaculture production industry;
• Improvements in gene editing that has future potential to tackle production barriers for the industry, including disease resistance;
• Addressing skills gaps, including quantitative genetics and bioinformatics;
• Improved engagement of the public and other stakeholders in the use of genetics technology in aquaculture.
Well-managed programmes of domestication and breeding have a large and mostly untapped potential for improvement in aquaculture production. AquaLeap will focus on developing and applying genomic tools to selective breeding of several important aquaculture species. (Professor Ross Houston, The Roslin Institute)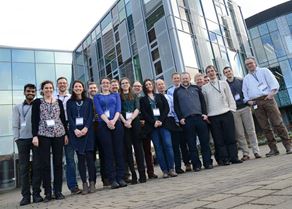 Read the Roslin Institute press release here, and find project updates on Twitter @Aqua_Leap
You can read further details about the project on the UKRI website.