KelpRing – A natural habitat for cleaner fish
KelpRing is an innovative new product to support the successful use of cleaner fish (an effective part of integrated parasite control and management) in the salmon farming sector. This innovation aims to improve cleaner fish welfare and survival rates by providing them with their own natural kelp forest within the salmon pens.
Anticipated benefits
A natural shelter for cleaner fish in salmon pens
Encourages natural behaviour among the fish
Positive impacts on cleaner fish welfare and survivability
Study shows cleaner fish preferring the natural kelp hide to the artificial hide
Eliminating the need for staff to clean the hides
Reducing the use of plastic
The natural kelp hide is an element of interest and enrichment for the salmon

The kelp also helps re-oxygenate the water and absorb pollutants
40%
Industry Contribution
12%
Academia Contribution
Lead partner: Sgurr Services Ltd

Main funder: Seafood Innovation Fund

Co-funder: SAIC
The objective of the trial was to obtain information for the wider commercialisation of the KelpRing; showing enhancement of fish welfare with anticipated benefits to the longevity and productivity of the cleaner fish in sea lice control, and also testing the design and structure as regards the ease with which normal fish farming procedures can be undertaken.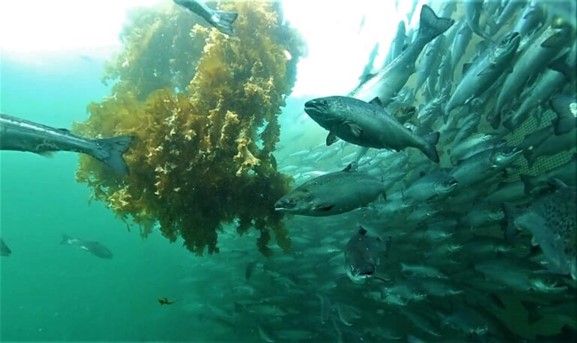 Wrasse and salmon interacting naturally around the KelpRing
KelpRings were deployed in salmon sea pens in a practical, industrial-scale sea trial, creating a kelp forest in which the cleaner fish could hide and interact with the salmon in a more natural environment closer to what the fish experience in the wild. Many positive behaviours were observed during the trial – fish swimming, resting and hiding in the KelpRing. This is promising in indicating the benefits for the health and welfare of the cleaner fish. The fish were also shown to favour the natural kelp over the artificial hides currently used in the industry. 
The kelp had the additional benefit of helping to re-oxygenate the water and absorb some of the phosphates or nitrates which are produced in salmon faeces, therefore reducing the environmental impacts of the fish farm.
The trial has also shown the adaptability and versatility of the design, and acceptance of the KelpRing by salmon company staff.  There is also the additional benefit to them of a reduction in the work otherwise required to maintain the existing plastic cleaner fish hides.
The natural kelp hides also provide a point of interest for the farmed salmon, acting as an enrichment of their environment.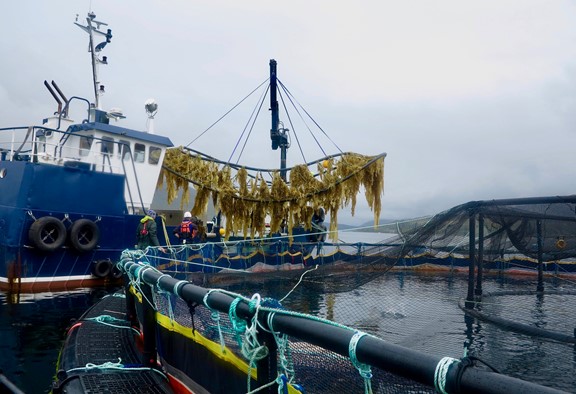 Image: nine-metre KelpRing being deployed